South Asia's imported scrap market rebounded in the past days post-Muharram holidays as buyers turned active to replenish the inventory amid limited domestic availability, and recovering demand before the onset of winter season. Meanwhile, imported scrap offers continued their uptrend.
India's imported scrap market remained volatile throughout the week. However, it showed signs of recovery as scrap trade improved towards the weekend. Imported scrap buyers turned active in procurement to build up their inventory as they expect finished steel demand to recover post monsoons.
Recent trades
Around 500 t of Europe-origin HMS (80:20) was traded at $475/t, CFR Nhava Sheva.
A trader sold around 2,500 t of Dubai HMS-1 at $510/t Nhava Sheva. Another deal of UK-origin PNS was concluded at $520/t, CFR Mundra basis.
Two deals of 500 t each were concluded. Shredded scrap was sold at $510/t CFR Vizag and HMS premium quality at $490/t CFR Mundra.
India's ferrous scrap imports rose by 16% in July to 0.44 million tonnes (mnt) as compared to 0.38 mnt in June. The UAE continued to be the major exporter at 0.07 mnt, followed by the USA and the UK at 0.05 mnt and 0.03 mnt, respectively.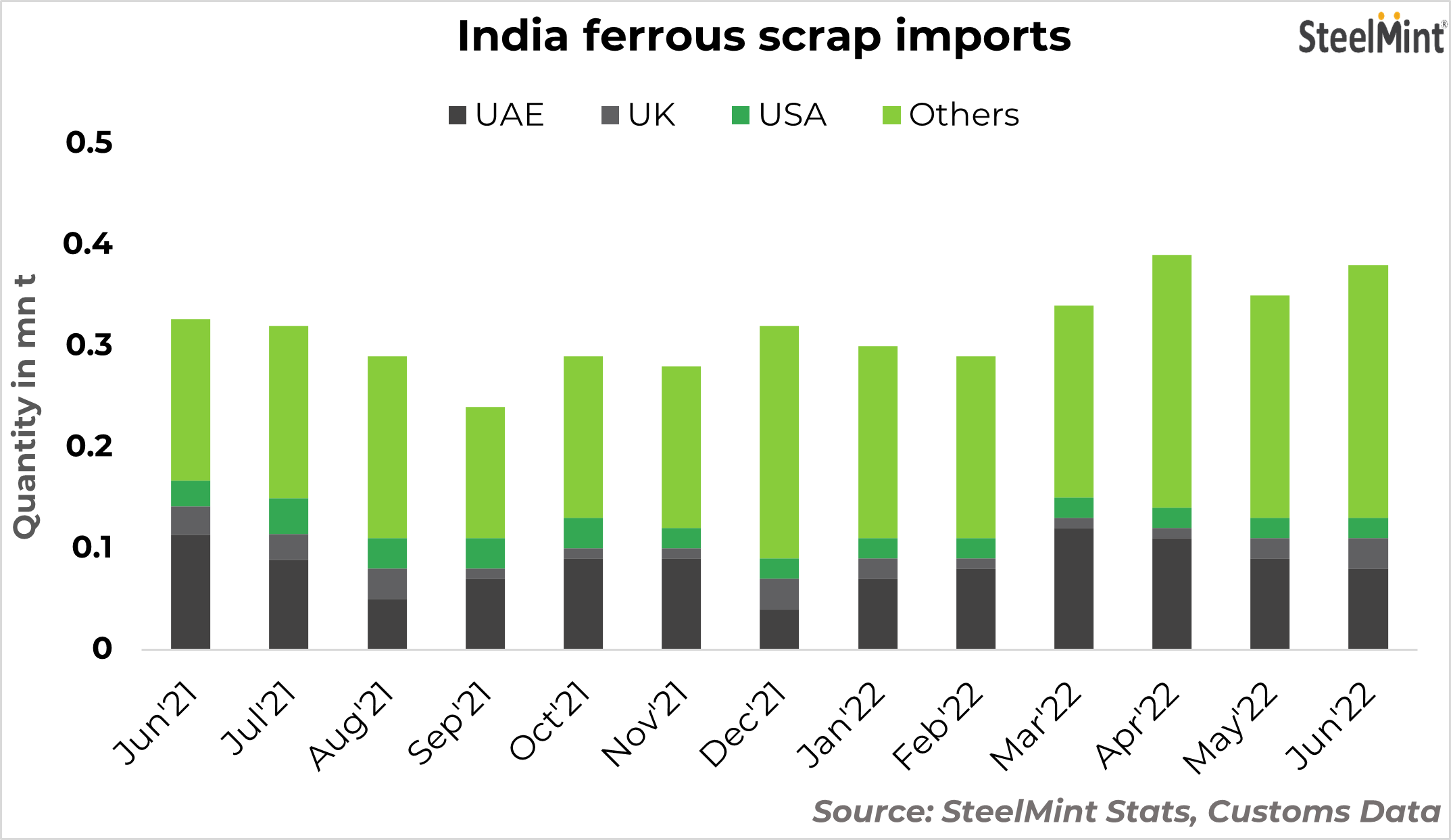 Pakistani buyers gradually started buying as the rainy season is coming to an end and the national currency also appreciated after declining for the last couple of weeks which brought some relief to scrap buyers after holidays, supporting further bookings.
Recent trades
Around 5,000 t of Europe-origin shredded scrap was booked at $495-500/t, CFR Qasim basis.
Pakistan, one of the leading ferrous scrap buyers in South Asia, imported 223,819 t in June 2022 as against 164,699 t in May. Seaborne bookings for June rose significantly by 36% m-o-m. In contrast, on y-o-y basis, scrap imports fell 23% compared to 290,412 t in June 2021.
Bangladesh's imported scrap market continues to stay under pressure. Currency depreciation, power cost-push, LC-related issues kept buyers less active in the imported market. Meanwhile, few buyers preferred bulk purchases over containerised scrap due to cost effectiveness.
Recent trades
Bulk: In a recent deal, 30,000 t of US-origin mixed (HMS and shredded) bulk cargo was booked for September 2022 shipment at an average price of $445-450/t CFR Chittagong.
Containers: Around 500 t of shredded scrap of UK-origin was traded at $525/t, CFR Chittagong. In another deal, a total of 1,000 t of New Zealand-origin shredded was booked at $520/t.
Bangladesh's bulk ferrous scrap imports registered a sharp fall of 42% in July 2022 to 0.19 mnt as compared to 0.33 mnt in June. The USA continued to be the top exporter at 0.16 mnt, followed by Japan at 0.03 mnt.
Factors driving the imported market sentiments:
Currency appreciation: The Indian rupee (INR), as with all major currencies, appreciated a little against the dollar. Currently INR is being traded at 79.8 levels.
Bangladesh currency Taka was mostly stable on a weekly basis and was trading at 95 levels. Market participants believe that buyers will be back in the market if the exchange rate stablises.
The Pakistani rupee (PKR) bounced back against the US dollar (USD) after plunging to a record low in July. The national currency was traded at 214 in the currency exchange market. Pakistan has a consumption-based economy and relies on imports of commodities including steel and scraps for its manufacturing industry.
Increasing steel demand for govt-funded projects: Steel demand in Bangladesh may remain supported mainly due to the government-funded infrastructure projects which were launched to stimulate the economy hit by Covid-19. Projects such as the Ashrayan Project, Metro Rail, Karnafuli Tunnel and elevated expressway from Dhaka Airport to Kutubkhali are expected to boost infrastructure construction. Hence, scrap demand is also likely to remain supported this year as well as in 2023.
Outlook
Despite the continue uptrend in prices, industry participants feel the market may pick up next month as the season will start changing and the approaching winter will boost construction activities.