Sponge iron imports by Bangladesh from India stood at 283,000 tonnes (t) in FY'22 (April'21-March'22). Although Bangladesh's imports increased sharply from FY'21, volumes were still lower compared to the previous couple of fiscals. Imports, however, are expected to edge up in the coming time on account of rising steel melting capacities in Bangladesh and infrastructure projects in the pipeline.
Notably, Bangladesh's financial year starts on 1 July and ends on 30 June. The country's sponge iron imports were recorded at a meagre 221,756 t in the Indian fiscal year 2021 (FY'21) due to the impact of the COVID-19 pandemic. Meanwhile in the first six months (January-July) of CY'22 the country imported 443,092 t of sponge iron from India, indicating a surge in demand. However, due to LC issues and the liquidity crisis buyers booked limited material during June-July.
Bangladesh accounts for 41% of Indian sponge exports: Bangladesh has a share of 41% in India's total sponge exports, with export volumes in FY'22 being recorded at 690,287 t. While Nepal accounts for the largest share – 53% – of India's exports, Bhutan holds a share of 5%.
Bangladesh's sponge import prices: Imported sponge iron prices to Bangladesh stood at an average level of $494/t CNF Chittagong in FY'22.
Market updates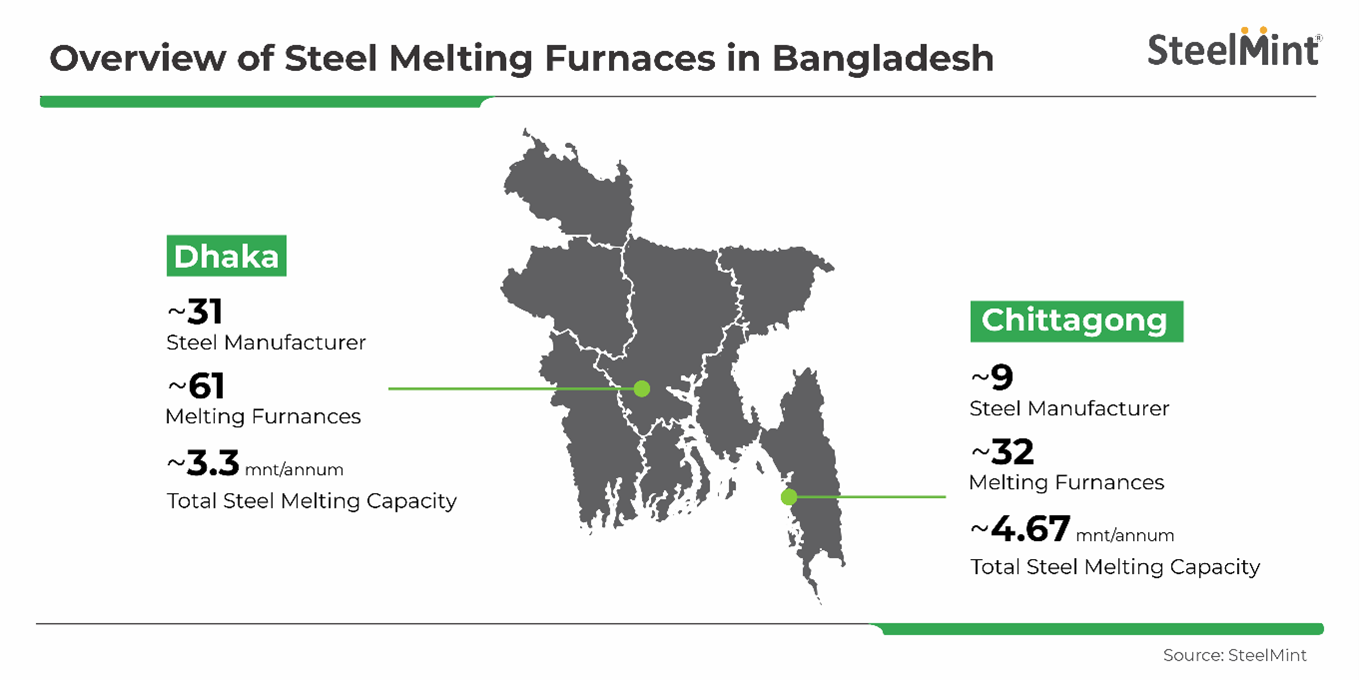 Chittagong – home to steel mills: The Chittagong region is the hub of the largest mills in the country, including the top four steelmakers and nine steel companies in all. Mills in the region operate 32 melting furnaces (29 IFs and three EAFs) with a total crude steel capacity of 4.67 mnt (including GPH Ispat's Quantum EAF).
IF mills in Dhaka:  On the other hand, Dhaka has 31 mills in all which are relatively small in size, operating 61 induction furnaces (IF) with a total melting capacity of around 3.3 mnt per annum, while another four induction furnaces are operated by steelmakers in the Comilla region.
Furnace sponge-scrap ratio: The ratio of sponge iron in the steelmaking feed depends upon scrap quality. However, the percentage mix of sponge iron in the furnace hovers around 5%.
As many steel manufacturers in Bangladesh are planning to expand their steel capacities, DRI imports from India are poised to rise further.
To know more on Bangladesh's sponge iron imports, book your seat at 3rd Steel & Raw Material Conference, Emerging Bangladesh on 20-21 September, 2022 at Hotel Radisson Blu, Chittagong, Bangladesh, and get a chance to hear renowned industry participants from across the globe on "How are Indian mills managing feed mix of Scrap/DRI/Pig Iron in Induction Furnaces (IF)".